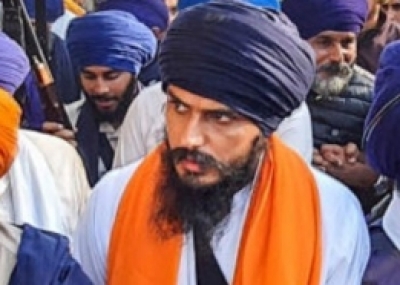 Shillong, April 13: It has been over three weeks when pro-Khalistan radical Amritpal Singh escaped when Punjab police came to arrest him. Since then he is seen in CCTV footage hiding his face in different cities.
Amritpal Singh is the same radical who in his speeches used to claim that he is not afraid of police. Posters declaring fugitive Khalistani separatist as a 'wanted man' have been put up by the government railway police at the Batala railway station in Punjab's Gurdaspur.
Amritpal was identified on the posters as being sought after by the police in numerous crimes.
Since March 18, Amritpal has been evading arrest as a result of a police crackdown.
"Anyone with information about him (Amritpal) can contact one of the mobile numbers listed below". The poster stated that supplying the information will result in an appropriate reward.
The advertisements also stated that the informer's identity would be kept a secret.
Papalpreet Singh, a close associate of Khalistani rebel Amritpal Singh, was detained by the Punjab Police on April 10 in Hoshiarpur. Following an operation by the Punjab Police and its counter-intelligence section, Papalpreet was taken into custody.
Papalpreet will be kept in the Dilburgah prison in Assam under the National Security Act (NSA). The NSA permits up to a year of detention without any charges.
Amritpal and Papalpreet were reported to have arrived at Gurdwara Janam Asthan Sant Baba Nidhan Singh, Nadalon village, Hoshiarpur, on March 27 by the Punjab Police. Additionally, they learned that both of them will change locations on March 28 in the evening.
When the duo managed to fool Punjab police once more, an operation was launched for the second time at that point.
Amritpal Singh along with hundreds of his supporters stormed a police station in Ajnala in Amritsar to secure the release one of their associates who had been arrested.