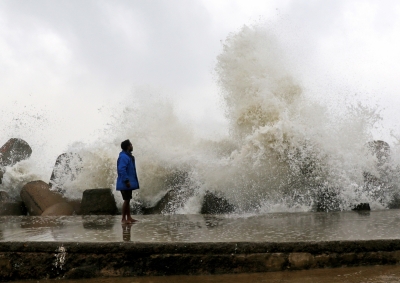 Shillong, May 14: Cyclone Mocha, which is now in the Bay of Bengal, will reach the coasts of Myanmar and Bangladesh's Cox's Bazar on Sunday afternoon.
The cyclone's centre, which is 600 kilometres from Cox's Bazar's shore, has a maximum sustained wind speed of 170 kilometres, with the potential to reach 190 kilometres.
According to the India Meteorological Department (IMD), Cyclone Mocha is predicted to make landfall on Sunday afternoon and is likely to cross Kyaukpyu in Myanmar and Cox's Bazar in southeast Bangladesh. A warning has been issued for Bangladesh's Cox Bazar seaport, Chattagram, and Payra port because meteorologists predict that the wind in the Bay of Bengal could exceed 200 kph.
Cyclone Mocha is one of the most potent cyclones to hit Bangladesh's coast in almost two decades. According to Bangladesh's meteorological department chief Azizur Rahman, "Cyclone Mocha is the most potent storm since Cyclone Sidr."
The centre of tropical storm Mocha was about 410 kilometres off Bangladesh's Cox Bazar coastline.