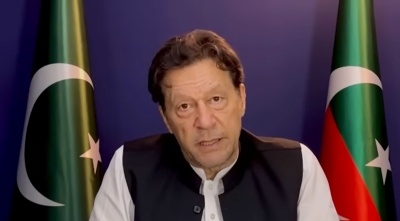 Islamabad, May 25 : Pakistan Tehreek-e-Insaf chief Imran Khan on Thursday filed a petition with the Supreme Court, urging the apex court to take notice of the "undeclared martial law" in parts of the country and the ongoing aggressive crackdown on his party, media reports said.
Khan, through his lawyer Hamid Khan, has requested the top court to probe the government's decision to call "in the aid of the armed forces in the federal capital territory, Punjab, Balochistan and Khyber Pakhtunkhwa (K-P) in the purported exercise of powers under Article 245 of the Constitution", The Express Tribune reported.
"The dictated exercise of this power by the federal cabinet in the absence of objective conditions for the exercise of that power is clearly violative of the fundamental rights," the petition stated.
Khan also pleaded the SC to appoint a commission led by an top court judge to probe the events surrounding his arrest on May 9, and the subsequent incidents.
Notably, cases against 16 'miscreants' are scheduled to be heard by the military courts, who were allegedly involved in attacking military installations and disrespecting memorials of the martyrs following the arrest of the former Prime Minister, The Express Tribune reported.
Several questions were posed before the top court in the application, not only about the nature of Khan's arrest — which the SC had already declared unlawful — but also about the invocation of Army Act 1952 and Official Secrets Act 1923 against civilian offenders.(IANS)