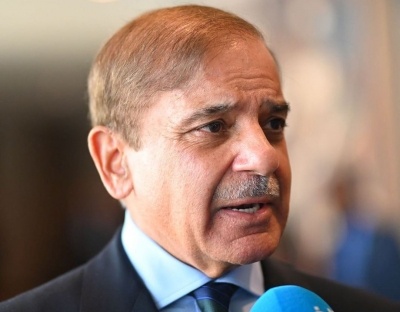 Karachi, May 27 : Pakistan Prime Minister Shehbaz Sharif has said that an agreement is not being reached with the International Monetary Fund (IMF), but underscored that Chinas support will play a crucial role in preventing the country from facing any potential default.
During his address to industrialists and businessmen in Karachi, Prime Minister Sharif said that Pakistan has successfully met all the stringent conditions imposed by the International Monetary Fund (IMF), emphasising the government's commitment to completing the IMF programme, Samaa TV reported.
Sharif said that China has demonstrated support by rolling over its commercial debt, highlighting the goodwill of friendly countries towards Pakistan's development.
He further stated that Pakistan enjoys positive sentiments from its friendly nations, reflecting the collective desire to see the country progress, Samaa TV reported.
The premier pointed out that the previous government had violated the agreement with the IMF.
The country has experienced political instability for a year, which continues to persist. This prevailing instability has further contributed to the rise in prices, exacerbating the issue of inflation
Sharif underlined the significance of investors who willingly take risks and invest in Pakistan, considering them as ambassadors of the country.(IANS)