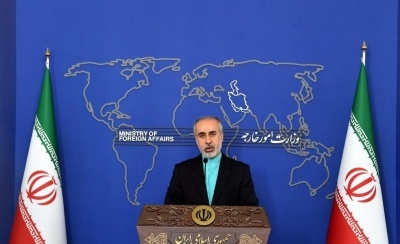 Tehran, May 28 : The Iranian Foreign Ministry spokesman rejected as "baseless" the Ukrainian President's claims about Iran supplying Russia with drones for use against Ukraine.
Nasser Kanaani made the remarks in a statement published on the Iranian Foreign Ministry's website, in response to a recent call by Ukrainian President Volodymyr Zelensky on Tehran to stop "its supply of combat drones to Russia", Xinhua news agency reported.
Kanaani reiterated Iran's opposition to the Russia-Ukraine conflict and is very sorry about the Ukrainian people's pain and suffering, adding Iran stays ready to provide assistance to the finding of a political solution to end the crisis at the earliest possible time.
He stressed that the Ukrainian President's repeated "baseless" claims is in collusion with the West's anti-Iran "propaganda and media war" and is aimed at attracting further financial and arms supports from Western states.
He said Iran's readiness to continue expert-level negotiation with Ukraine on solving relevant dispute, however, the Ukrainian side has refrained from holding further talks, which proofs "baselessness" of its claims and "political objectives and motives" behind its anti-Tehran accusations.
In a nightly video address on Wednesday, the Ukrainian president urged Iran to reconsider what he called "its supply of combat drones to Russia" in order to stop its slide into "the dark side of history".
Ukraine and Western countries have accused Iran of exporting suicide drones to Russia for use in the ongoing conflict in Ukraine. Iran has repeatedly rejected the accusations as "baseless", saying it had only given "a limited number" of drones to Russia months before the start of the Russia-Ukraine conflict.(IANS)