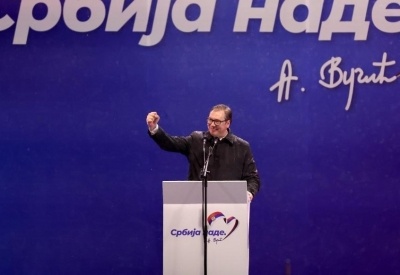 Belgrade, May 27 : In front of tens of thousands of supporters at a rally in Belgrade, Serbian President Aleksandar Vucic announced he will resign from the leadership of the ruling Serbian Progressive Party (SNS) on Saturday, to promote national unity at a time of crisis.
The Friday night rally brought together government officials, leaders of ruling parties in Serbia, Montenegro, Bosnia and Herzegovina, and Hungary, as well as public figures and celebrities who came to express their support for the policy adopted by the Serbian president to overcome the crisis created by two mass killings at the beginning of May, reports Xinhua news agency.
"This is the last evening that I am addressing you as the president of SNS, tomorrow someone else will take over my, your, our Serbian Progressive Party, of which I will remain a faithful and loyal member," Vucic said, ahead of Saturday's party leadership meeting to be held in the city of Kragujevac.
In response to two separate shootings that claimed 18 lives, mostly of young people and children, and left dozens injured, thousands of protesters took to the streets over the past two weeks to demand social and political changes.
In his speech, Vucic invited the opposition and protesters to participate in a dialogue and table their proposals, but stressed that there could be no change of government between elections.
He said that he would establish a new political organisation "Movement for People and State" by the end of June, to improve the country's unity and political capacity to overcome "the next two or three years of crisis that will prove decisive for Serbia's future".
The president's speech received a warm welcome from the participants of the rally, who were enduring the rain for hours.
Vucic was elected as president of the SNS in 2012, and in 2017 he won his first mandate as president of Serbia.
Last year, he was re-elected for a fresh five-year term.(IANS)