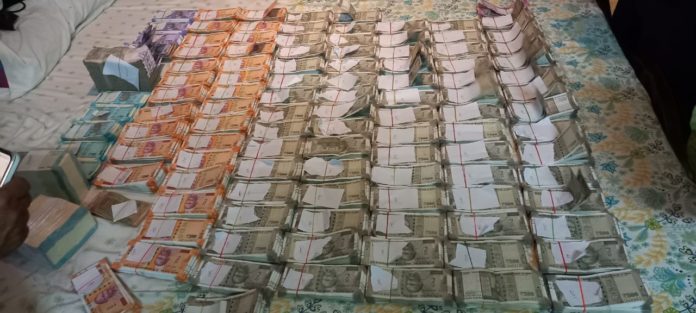 Guwahati, Aug 18: Searches conducted by Assam vigilance teams at the official quarter and private residence of an arrested engineer, accused in a bribery case, led to the recovery of cash amounting Rs 45.54 lakh on Friday.
On Thursday, Manuj Kumar Saikia, an executive engineer, PWD (roads and buildings) Haflong division, Dima Hasao district, was caught red-handed by vigilance sleuths in his office after he accepted a part of the demanded bribe from the complainant.
"Searches were conducted by teams of the directorate of vigilance and anti-corruption, Assam, in a government quarter occupied by the accused at Haflong, Dima Hasao and his residence at Nagaon town. During the search operation, a cash amount of Rs 44,51,835 was recovered by the team in his residence at Nagaon. Besides, a cash amount of Rs 1, 02,550 was recovered from his government quarter in Haflong," official sources said on Friday.
Other recoveries from his residences include documents relating to building and flat; a number of plots of land; multiple bank accounts; other investments in post office (KVP/NSC certificates); bank fixed deposits, insurance policies, etc.
Further investigation into the case is underway.
It may be noted that a trap was laid by the vigilance team in the office of the executive engineer, PWD (roads and buildings) Haflong division and the executive engineer was apprehended after he accepted Rs 10,000 as part of the demanded bribe from the complainant on Thursday.
Earlier, a complaint was received at the vigilance directorate alleging that Saikia had demanded Rs 55,000 as bribe from the complainant for releasing the pending bills of the complainant. Later, he had reduced the amount of bribe to Rs 25,000.
After sufficient evidence was gathered against the accused public servant, he was arrested. In this connection, a case was registered at the anti-corruption bureau (ACB) police station under Section 7 (a) of Prevention of Corruption Act, 1988 (as amended in 2018).