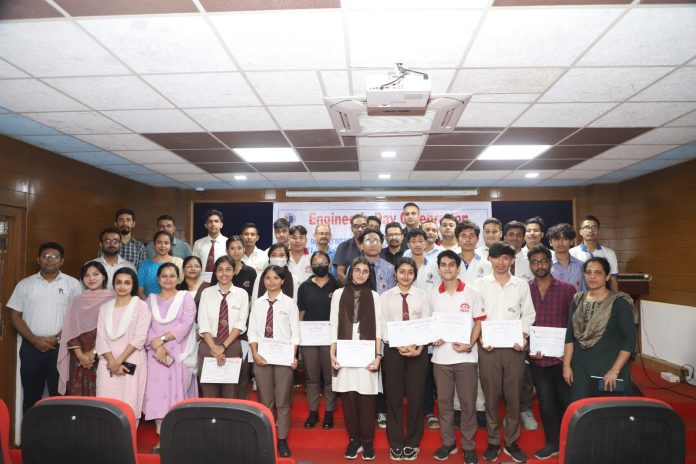 Guwahati, Sept 15 : Four technical departments of USTM—Department of Computer Science & Engineering, Department of Electrical & Electronics Engineering, Department of Civil Engineering and Department of Mechanical Engineering have jointly celebrated the National Engineers' Day 2023 today to honor the valuable contributions of engineering to the society and to discuss the engineering innovations and its impact on the future generations.
A coding competition called "CodeFusion" was organized by Computer Science department
among the students of USTM and other institutions including Tezpur University, Cotton
University, KC Das Commerce College, GCU, Assam Downtown University etc. Around 60
students from different institutions joined in the competition.
Mr. Lakshya J Bora, Co-Founder at Cognitive Tech. & TechSavvy Software & Security
Consultant enlightened the students about the coving principles, components of Blockchain
technology, and its applications in the revolution of different industries from finance to supply chain management, according to a Press Communique.
He also explained the practical knowledge in writing and deploying mart contracts using solidity.
The programme began with a welcome speech by Dr. Preetam Kumar Pathak, HoD, Department of Engineering and Technology, USTM. The departments organized various competitions among the students of USTM and other institutions along with an Industry academia Workshop on Blockchain Technology.
On account of the Engineers' Day 2023, the Department of Engineering and Technology
organized Bridge Making competitions among the students of various disciplines, on this year's theme: "Engineering Innovation for A More Resilient World."
A Debate Competition was also held on the topic "Is it appropriate to use regional languages as the medium of instruction in technical education?" A Poster Presentation Competition on innovative engineering concepts for a sustainable and resilient Earth was also organised.
Dr. Amit Choudhury, Dean, the School of Technology and Management delivered the concluding speech.
Certificates and prizes were distributed among the winners of different competitions.
The event ended with vote of thanks by Dr. Bhairab Sarma, HoD, Department of Computer
Science, USTM.