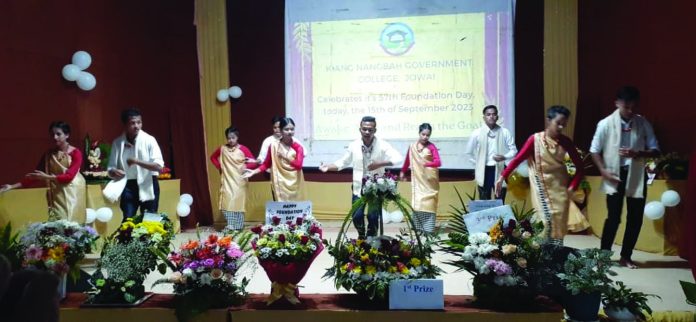 From Our Correspondent
Jowai, Sep 16: Kiang Nangbah Government College, Jowai celebrated its 57th Foundation Day on Friday.
The celebration witnessed enthusiastic participation of the faculty members, students and special guests along with different programmes performed by the students that made the day.
The principal of the college, Dr. E M Blah paid respect to the founders of the college and their collective wisdom. She also announced the commencement of ITEP at the college from this academic year.
The college felicitated top rank holders of the institute, and teachers who have served for more than 25 years.
The audience was reminded about the history of the college as well as the struggles and achievements she had undergone for over five decades.
Two rank holders from the Departments of Mathematics and Botany, Salansi Pohleng and Shandakabiang Lyngdoh respectively; three teachers who had served the college for more than 25 years, Dr. J P Sharma, L D Lyngdoh and SMF Blah were felicitated.
The college also conferred Dr. S R Lyndem and R Mawroh, Principal Consultant RUSA, DHTE, Meghalaya in recognition of their assistance to the college.
Lyndem lauded the college on its various achievements, one of which he had contributed as a consultant, that is, the accreditation given by NAAC to the college in 2021. While expressing gratitude for the recognition he pointed out that the college had already reached more milestones by being recognised by NCTE and NEHU as an institution offering the Integrated Teacher Education Programme (ITEP).
The college is one of only five in North East India, and the only one in the state to have started the programme.
He remarked that the college has now gone beyond the parameters of NAAC because of the introduction of ITEP. Dr. J P Sharma, IQAC Co-ordinator of the college congratulated the teachers and the students who have brought accolades to the college in various activities since its inception.
The principal thanked Dr. Lyndem for his contribution during the process of assessment by NAAC. She also acknowledged the contributions of the teachers, staff, students, RUSA and the Education Department of the Government of Meghalaya towards the upliftment of the college. The event also showcased performances of songs composed by a student, Pyntyrshain Syngkon, as well as other songs and dance by students.