Esha Chaudhuri underlines the potency of Sign Language as a medium for advocating acceptance, inclusivity and breaking barriers for a fulfilling society.
September 23 observes International Day of Sign Languages, a day dedicated to fostering awareness on the syntax and semantics of a linguistic sign, as well as bringing stakeholders together with the deaf communities under a fold of cultural inclusivity. With this year's theme "A World Where Deaf People Everywhere Can Sign Anywhere!" Sunday Shillong captures the essence of State Resource Centre on Disability Affairs (SRCDA), Civil Hospital, Government of Meghalaya, Shillong in advocating the value of Sign Language.
No different from spoken languages, Sign language aids in bridging gaps through acquired skills also helps in communicating emotions, improves motor skills and conveys the message of feeling connected and oneness.
"Sign languages are complete languages, but they're still working towards getting official recognition. It is important they get this recognition to empower the Deaf community and promote inclusivity." states Officer In-Charge, MS Ortho, Project Director & State Coordinator (SRCDA) N P Laloo.
Giving an insight into SRCDA's idea of fostering inclusivity, Laloo says, "Our vision stands for inclusivity at its core through various programs and initiatives at the districts and blocks, we aim to create an environment where every person, regardless of their abilities, feels valued and included."
Healingson Syiemlieh, the inspiration
For some, silence or perpetual silence is the only sound in life. Such an oxymoron, one might think. But life is a mix of such paradoxes. Who would vouch for it? The case in point is that of Sign Language Interpreter & Ear Mould Technician, SRCDA, Civil Hospital, Government of Meghalaya, Shillong, Healingson Syiemlieh. Being a person with disability himself, who lost all sensibilities of hearing at the age of four, says "I was born with the ability to hear, but at the age of 4, I fell ill and lost my hearing. Growing up, communication was incredibly challenging as my friends and family didn't know sign language."
Shedding light on his experience learning Sign Language, Syiemlieh says, "Adjusting in Shillong was a bit challenging since the schools didn't teach sign language, and most teachers were unfamiliar with it. However, when I moved to Chennai for school, I encountered many deaf individuals who were proficient signers. Although I was initially shy, I learned sign language thoroughly, facilitated by the supportive community around me. Upon returning to Shillong, I was able to share what I'd learned, enabling the local deaf community to make significant strides in mastering proper sign language."
Presently, Syiemlieh is an integral part of the Centre, and adds, "When I joined SRCDA, Shillong I was nervous since many did not know sign language, it was hard to communicate and I did not know the work. However, with time I learnt what to do and how to do the work with the help from the staff."
Turning to the outsider world, access to public spaces has always been a trial of sorts for the disabled community in terms of using public transport, visiting public spots, as well as lavatory services.
Similarly, Syiemlieh also faces the same sort of challenges when using public transport and/or running errands. "Like many in the deaf community, navigation can be quite challenging due to the language barrier. Using public transportation, like buses or taxis, can be particularly tricky. Buses often lack clear signage about their routes, making it tough to know if I'm on the right one. While taxis may be a bit easier, communicating the destination can still pose a challenge, especially when drivers are in a hurry. Shopping is generally straightforward – I can usually grab what I need and see the total price. However, if I need to place an order, request something specific, or seek assistance, it can be quite challenging to get the help I need." he explains.
Now, arriving at people's perception about the deaf, Syiemlieh shares, "Many hearing individuals are either afraid or hesitant to come up to us or interact with us or even treat us in a bad way, but we are no different, we just use a different language. If you don't know sign language that's OK, you can use pen and paper or phone to communicate, many of us read and write English."
On the question of a dedicated day for the deaf and Sign Language, Syiemlieh says, "It brings awareness to a language that is often disregarded. It's my language but yet many people don't know it, so a day dedicated to Sign Language helps many people see that as a community the deaf can communicate and we know communication is important both for hearing and deaf alike."
Facilitators in action
Caregivers, mentors, and rehabilitation experts, as well as the officers in action play a crucial role in fostering adequate help and come to aid for the various needs that may arise while caring for the disabled. Engaging with some of them was insightful, especially about disabilities, the conditions, and its early detection for timely treatment.
Disability Rehabilitation Expert, SRCDA, Shillong & Occupational Therapist, Civil Hospital, Shillong, Larisuk Raplang emphasises on the value of early detection and attention. She says, " Children must be examined at a young age if their parents feel their children are slightly different than children of the same age." Speaking about the nature of her work, she shares, "In Rehabilitation, we work as a team where we address issues regarding all forms of development and developmental delays. Be it Physical motor development, Mental and Cognitive, Speech and Hearing, Social and Emotional. Rehabilitating not only the disabled but most importantly prevention of secondary complications that can lead to disabilities."
Citing two examples, Raplang explains, "A case where a child with cerebral palsy whose whole body is spastic and rigid has undergone almost 10 yrs of therapy now and has become independent in all activities of daily living, has received education, and can also travel independently."
Proving her point on early detection and care, Raplang narrates another, "A six year old child, a right hand dominant who got all his fingers amputated except the thumb, left his parents in Nongstoin, lived with his relatives for two weeks to undergo rehabilitation therapy. As of now, he can do everything with his right hand, even picking up pins. Except for writing, but for that too, the centre will be providing adaptive writing aid soon."
Interacting with a Caregiver and Sign Language Interpreter, Rinalyne Wanniang, who, having prior teaching experience, decided to enrol herself in a course to qualify as an Indian sign language interpreter. She did so because she felt the need to improve communication skills amongst the deaf students. "Interpreting various disciplines in the classroom and counselling students with hearing impairment acting as the channel to bridge communication gaps is the best part of my job." says Wanniang.
However, like all jobs, Wanniang faces her share of challenges too. "As proper Indian Sign Language is not introduced to most students with hearing impairment, communication gap between parents, siblings, teachers, students leads to disinterest in studies."
Wanniang further adds, "The other challenge is that there are a limited number of  interpreters in the state, and therefore very frequently the existing Sign Language interpreters were dragged and expected to be present in all fields for interpretation such as the court, schools, technical and medical to name a few."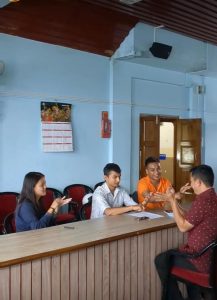 Informing about the improved situation in data collection ever since the introduction of the Unique Disability ID, or UDID, a distinctive 18-digit identifier for each Person with Disability across the country, Planning Officer, SRCDA, Dylan Syiem reveals that the SRCDA, Shillong, serves as the Nodal Department responsible for issuing UDIDs across all 12 districts of the state.
Speaking of his enriching experience and revelations as an official at SRCDA, Syiem says, "I've had the privilege of witnessing numerous inspiring moments and revelations. One particularly impactful incident involved a young individual with hearing impairment who, after receiving tailored support and training, not only secured a job but also excelled in their role. Another revelation came from interacting with parents of children with disabilities. Many were unaware of the available support services and felt isolated in their struggles. This highlighted the urgent need for better dissemination of information and community support for families."
Drawing attention to the difference that this position enables him to make a difference in people's lives, Syiem shares, "With the help of a dedicated team, we've been able to make a difference in the lives of persons with disabilities. I'm constantly inspired by their strength and potential. It's an honour to be a part of their journey towards more independence and inclusion. I'm grateful for the chance to contribute, even in a small way, to their lives."
A bright future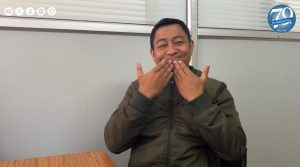 Initiating conversation for those with disabilities, especially the deaf has definitely been initiated and a few concrete measures have also resulted from it. In India, acquiring a driving licence for the deaf was introduced in 2011, where driving was viewed as more of a visual act than hearing (Disability Right Through Courts). In Meghalaya, too, in an attempt to aid those that have hearing impairment, a mobile application by the name of Meghalaya Sign Bank was launched in 2018, with a database of lexical entries with more than 10,000 words. However, there is much more to be done. When asked Syiemlieh of three wishes, as a disabled person that he would want to see in the world around him, he answers, "Firstly, I believe it's crucial to educate hearing individuals about the deaf community, making sign language classes readily available, and establishing a proper education system for the deaf.
Secondly, public places, such as buses and hospitals, should have clear signage to prevent miscommunication. Thirdly, hospitals and government institutions should ensure that interpreters are easily accessible for the deaf."
On the question of what needs to be done for bettering the lives of those who are disabled, Wanniang suggests, "Parents and teachers should be encouraged to learn Indian Sign Language and the system should identify and realise that the severity of the disability (communication) among the deaf students/community can be eliminated by providing adequate support and timely interventions. The lack of information by the parents and curiosity of stakeholders, in turn encourage the parents to use the Cochlear implant and force the child to speak, this will not help in the long run."
On dispelling prejudices among people about the deaf community, Laloo says "Overcoming prejudices is an ongoing and multi-stakeholder effort. Through education, awareness campaigns, and inclusive policies, the state government with the support of the office of the Commissioner for Persons with Disabilities."
Additionally, Laloo furthers a message to the readers, "We must break mental and societal barriers to create a more inclusive and accessible society. Together, we can empower persons with disabilities to lead fulfilling lives, thrive and contribute their unique gifts to society."
It is evident from the cases in point that Sign Language is a significant tool ensuring Human rights for those with hearing impairment, and therefore, must be promoted to make inclusivity a badge of our society.
About:
Established in the year 2000-2001 in collaboration with the  State Society for the Implementation of Rehabilitation for Persons with Disabilities  (SSIPRD), SRCDA has been instrumental in implementing Disability Services in  Meghalaya through the Meghalaya Programme for the Implementation of  Rehabilitation for Persons with Disabilities (MPRPD). Aiming towards the empowerment of  persons with disabilities in the State, the SRCDA envisions a society where all people have equal opportunities to  participate in a society, and are treated  with equality, dignity and respect for their expressed choices. With four District Resource Centres on Disability Affairs (DRCDAs) in Shillong, Jowai, Nongstoin, and Tura, they provide comprehensive services at the grassroots level. They offer early detection, prevention, rehabilitation, and counselling  services. Its Early Diagnostic and Intervention Centre (EDIC) located in various Civil Hospitals, aims to assess hearing impairment  in children at an early stage, allowing for timely  treatment. Additionally, this specialised wing also provides for scholarship programs that support the  education of deserving students with disabilities.