– Pavan Kaushik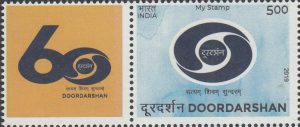 Who can forget the Doordarshan TV serials like Ramanand Sagar's 'Ramayan' (1987-88) and BR Chopra's 'Mahabharat' (1988-90) get high viewership and ad revenues, 'Malgudi Days' (based on author RK Narayan's eponymous book of short stories) which aired on the channel in 1987. In the year 1994, fantasy series 'Chandrakanta' aired on DD National every Sunday morning. In the year 1997 the Hindi-language superhero series 'Shaktimaan' started on DD National, starring Mukesh Khanna, the show got mired in controversies owing to impressionable kids imitating dangerous stunts in the series.
The TV news-readers like Pratima Puri became India's first newsreader when DD began five-minute bulletins in 1965.
 On September 15, 1959, the government initiated Doordarshan, commonly known as DD, the nation's public service broadcaster, in Delhi.
 In 1959, the first President of India Dr. Rajendra Prasad launched DD as a pilot project at AIR studio in Delhi.
 It telecasted one-hour programmes on social education twice a week. In 1965 daily transmissions began with shows in morning and evening, five-minute news bulletins started, and telecast duration went up to four hours over the coming years.
 The 'DD eye' logo was designed by NID alumnus Devashis Bhattacharyya in the early 1970s, Prime Minister Indira Gandhi picked his design from NID submissions.
 The DD signature tune was composed by Pandit Ravi Shankar and Ustad Ali Ahmed Hussain Khan in 1976.
 What began as a small scale experimental project, with a petite 5 KW transmitter and a makeshift studio, later emerged as a national broadcaster in 1982.
 Doordarshan is a part of the Prasar Bharti (India's largest public broadcaster) and is the largest broadcasting company in India and has a strong studio and transformer infrastructure.
 Doordarshan extends TV, Radio, mobile and online services across metropolitan and regional areas, as well as internationally, through the Indian network and radio across India.
 Doordarshan had a humble beginning on September 15, 1959 in Delhi, with a test telecast, using a temporary studio and a small transmitter.
 In 1965, regular daily transmissions were started by Doordarshan as a part of the All India Radio.
 By 1972, TV services were extended to Mumbai and Amritsar; up to 1975 only seven cities across India had TV service and Doordarshan was the only service provider of TV in India.
 On April 1, 1976, TV services were separated from radio and the offices of the All India Radio and Doordarshan were managed by separate Director Generals in Delhi.
 In 1982 Doordarshan came into existence as a national broadcaster and reached all parts of the country.
 The first programme to be telecast on Doordarshan was Krishi Darshan, which began on January 26, 1967 and is remembered as the longest running TV programme.
 Then came Prasar Bharati, a statutory autonomous body set up by an Act of Parliament and comprises the Doordarshan Television Network and All India Radio, which were earlier media units of the Ministry of Information and Broadcasting.
 The Act grants autonomy to All India Radio and to Doordarshan, both of which were previously under government control. The Act received the assent of the President on September 12, 1990 after being unanimously passed by Parliament. It was finally implemented in November 1997.
In May 2019, Prasar Bharti – the TV wing of India's public service broadcasting – shortlisted five submissions for DD's new logo.
Doordarshan, which began its operations in 1959 with a half-hour programming per week from Delhi, today operates 35 channels and has 67 production centres and 1,412 transmitters spread across the country. Terrestrial Doordarshan reaches 92 per cent of India's population.
Doordarshan, a Public Service Broadcaster of India, functioning under the aegis of Prasar Bharati, is one of the largest Broadcasting Organisations in the world in-terms of coverage and infrastructure like studios and transmitters. (IANs)