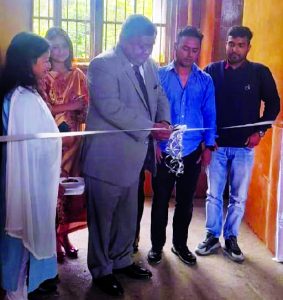 Demo on vax against Ranikhet disease virus by ICAR-KVK
SHILLONG, Sep 26: A method demonstration on vaccination in poultry chicks against Ranikhet disease virus (Lasota) was conducted by ICAR-Krishi Vigyan Kendra (KVK), Tura, at the farmers' field in Niksenggittim area of West Garo Hills district, on Tuesday. Ranikhet disease (RD) or Newcastle disease (ND) is one of the most important viral diseases of poultry causing devastating losses to poultry industry. It is a highly contagious disease characterised by respiratory distress, nervine symptoms and high mortality. Chicks are highly susceptible to this disease. The present method demonstration was held for farmers to vaccinate their five-day-old chicks. Dr Sagarika Borah from KVK did the demonstration and vaccinated the chicks at the farmers' house.
Diamond jubilee celebration of PGT
SHILLONG, Sep 26: The College of Teacher Education (PGT), Shillong, on Tuesday kick started its Diamond Jubilee celebrations with a programme held at the auditorium of the College, which was graced by Education Minister Rakkam A Sangma. In his inaugural speech, Sangma lauded the institute for rendering its services in producing thousands of teachers who are serving the state in the education sector and in providing a platform for the teachers to specialise in their art. He added that with the advancement of technology, people often rely on it for various purposes, he therefore urged the students to use their natural intelligence and to limit the use of technology. During the programme, the chief guest along with other dignitaries unveiled the College Diamond Jubilee Logo and Theme. Others who were present included Adviser, Education department, HM Shangpliang, IAS (Retd) and president of the College Governing Body, W L Lyngdoh, Principal, College of Teacher Education (PGT), Dr M A Jyrwa, among others.
Garbage truck for Riangdo
NONGSTOIN, Sep 26: Former MLA and MDC of Mawshynrut, Gigur Myrthong, on Tuesday released a waste collection truck in Riangdo, West Khasi Hills, provided by the KHADC under 15th Finance Commission 2020-21. In this connection, a function was held at the society market ground in Riangdo, which was attended by ex-MLAs Witting Mawsor and HL Nongsiang, ex-MDC Morningstar Mawsor, NPP Mawshynrut working president G Sohlang, Society chairman P Nongphud, and Society secretary K Mawlong, among others. Myrthong, who was the chief guest of the occasion, urged the members of the cooperative society to monitor and maintain hygienic conditions at Riangdo with the help of the truck. He also appreciated the society for keeping Riangdo market well-maintained. He reminded the gathering that he had sanctioned Rs 2 crores for a super market as an MDC. Being implemented by the cooperative society, the project is progressing, he said.
Nepali author feted in city
SHILLONG, Sep 26: A veteran litterateur, an eminent Nepali language novelist, short stories writer, and Sahitya Akademi Award winner, Bikram Bir Thapa, was honoured during a programme at the Babu Mani Singh Gurung Auditorium here on Sunday. The programme was jointly organised by the Sahitya Akademi, New Delhi, and Nepali Sahitya Parishad, Shillong. Thapa was honoured by Ram Shah, a member of Nepali Language Advisory Board, Sahitya Akademi, with garlands and a khada (a ceremonial scarf), memento and a shawl in recognition of his lifelong literary contribution. The author read out a detailed narration of his early life and literary journey till date which followed a thunderous applause from audience. In between the programme, a melodious Nepali song was presented by veteran singer Vikram Shanker. Dr. Purushottan Bhandari, a research scholar and a historian along with his group also honoured Bikram Bir Thapa with a khada and flowers. Later, a book of literary collection titled 'LADERA VISWA THARKAU' by late T Karki was formally released. This was followed by 'Nepali Poets Meet', wherein self-composed poems by as many as 14 poets were recited.
Lecture on Tagore's pedagogy
SHILLONG, Sep 26: In keeping with annual tradition at Women's College Shillong, the 14th annual endowment lecture to commemorate the birth anniversary of Pandit Ishwar Chandra Vidyasagar was presented by Professor Pradip Kumar Dutta, former Head of Department of Political Science, Delhi University, who is presently the Chairperson of Centre for Comparative Politics and Political Theory, SIS, JNU. The lecture, held at the college auditorium, was titled 'Visva-Samaj of Rabindranath Tagore's Visva Bharati'. Professor Dutta, while speaking on Ishwar Chandra Vidyasagar, stated that he was free from all sectarian division and adopted a more human centric commitment to education and drew from traditional education system as well to disseminate education to all including women. While drawing parallels to the great contribution of Rabindranath Tagore, he stated that Visva Bharati and Sriniketan were the outcome of Swadeshi and Atma Shakti. Tagore, through these institutions, tried to ruralise the urban and urbanise the rural. Nature in Shantiniketan was part of Tagore's educational endeavour with classes being held in the shades of trees for the students to understand the moods of nature. This was part of the pedagogy. Inspired by swadeshi and make students independent minded and an effort to producing an educational society that could illuminate society and the world. The programme was presided by Dr Debasish Choudhary, Trustee, Education India, in the presence of invited guests, Rector, Principal, Vice Principal, faculties, students and other members of the college.