Meet Shillong girl and model, Gargee Nandy, who has recently won the Talentica Miss India Global, 2020 held on December 23 in Goa. She has made North East India proud by becoming the first woman from Meghalaya to win this competition, and is all set to represent India in various international pageants.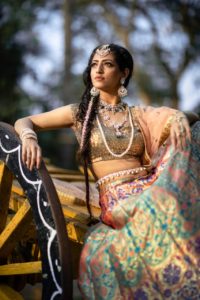 Sunday Shillong caught up with her to get a glimpse of her journey and take on life. Here are excerpts from our conversation:
 SS: Congratulations! How are you feeling?
GN: I am very happy to see that all the people of Meghalaya are celebrating my victory along with my family. This is a very emotional moment for me.
 SS: What was the journey to Talentica Global Miss India, 2020 like?
GN: The journey was very exciting as well as nerve-wracking. I had to undergo rigorous training. I had to follow a very strict routine wherein fitness was my first priority. It was not a cake walk for me, as one cannot prepare for a pageant overnight. I always wanted to bring the name of my state to the forefront. I channelized my strengths and interest towards this goal.
 SS: Tell us something about yourself.
GN: I was born and brought up in Shillong. I studied at B.K. Bajoria School and completed my Bachelors in Mass Communication from DSI Bengaluru. Other than my educational qualifications, I am a trained classical singer, dancer, trained in different genres of art, a lawn tennis player and a professional makeup artist.
 SS: How did you get into the world of fashion?
GN: I have always had a keen interest in fashion and grew up watching fashion shows which inspired me to get into the glamour world. I have done a lot of shoots for brands and well-known photographers. Post that, I decided to try my hand at pageantry which led me to participate in Miss Shillong Selfie Contest where I emerged as 1st runners-up. The prestigious Talentica Miss India Global, 2020 followed. I deeply love and enjoy the thrill of competition.
 SS: Given that we are still a conservative society, what challenges did you face?
GN: I am privileged enough to be born and brought up in a matriarchal society where women are honoured and given the liberty to choose and pursue their dreams and passion. However, during the beginning of my career, as I was travelling to various parts of the country, I did face subjugation and gender discrimination.
 SS: Were your parents and friends supportive of your decision to enter the world of fashion?
GN: My family has always acted as a backbone for me and they were an epitome of love and sacrifice. Besides, my parents I would especially like to mention the dedication and support that my grandfather (dada) and my grandmother (who I fondly call maa) have given me throughout my life. Nothing could have been possible without their support. They are my pillars of strength. I must also thank my designer, Arif Mukhim, who has designed every outfit I wore at the contest, including the preliminary rounds.
 SS: As "new India" marches towards innovation, what challenges remain for women, going forward?
GN: Liberating women is not a single-day task. It is very unfortunate that after 74 years of independence, we still face gender inequality. From violence, sexual abuse and gender pay gaps to restrictive reproductive rights and female foeticide, women of our country continue to face obstacles in achieving equality. Society as a whole, and especially men, need to play a major role in bringing the change in the mindset of people.
 SS: Transition is never easy and we still live somewhere between conservatism and modernity. What is your idea of modernity? How do you navigate the grey areas?
GN: Conservatism and modernity are two strikingly different ways of seeing the world. I have always associated modernity with progress, which includes enhancement of mindset, equality for all, irrespective of their gender, social background, caste, creed, race, colour, etc. Education, creating awareness and implementation of social reforms are the key factors which will help one navigate through the grey areas.
 SS: Winning the title is an inspiration for women from this region. What would be your message to them?
GN: North East India has always been known for its natural beauty and tourism but not for the immense amount of talent it holds. I would like to urge the youth to come forward and follow their passion, so that this region can be recognised for its true potential.
 SS: Which quote by a famous person resonates with you?
GN: "Wisely, and slow. They stumble that run fast" by William Shakespeare.
 SS: Any interesting personality quirks that may be of interest to our readers?
GN: The fact that I am very superstitious helps me to boost positive mental attitude. This, I would say, is a personality quirk.
 SS: Where do you see yourself in five years? Any plan to take the plunge in cinema?
GN: I see myself representing India at an International platform. I want to keep learning new things and do as much as I can for society. Being a fan of cinema and the ample amount of love, I have for the craft, I would definitely want to be a part of it, if given the opportunity.