By Ibankyntiew Mawrie
"Laughter is the tonic, the relief, the surcease for pain" — Charlie Chaplin
A famous line from the comedy-drama film — Munna Bhai M.B.B.S called "Jaadu ki Jhappi" (magical hug) and the lead actor Sanjay Dutt's attempt to spread laughter at a hospital set up might seem just like any other well-scripted scene from a movie but one cannot deny that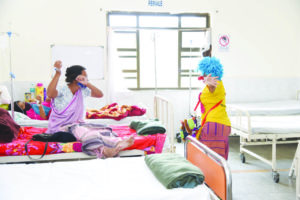 such attempts are but a reflection of life – as it is – and I choose to believe that the foundation of this famous line is drawn from the quote – "Laughter is the best medicine."
The ability to make someone smile is an ever powerful and effective gift; whether or not you choose to believe the scene depicting the miraculous healing through laughter in the Munna Bhai M.B.B.S movie, I leave it up to you, the wise readers to analyse.
One such believer is Sheetal Agarwal, the founder of Clownselers Foundation – a five years old Delhi-based non-profit organisation. As a clownseler, Agarwal has been visiting hospitals, cheering up patients so that their healing process becomes faster and quicker.
Why Clownselers? As the word suggests, Clownselers are clowns plus counselers, engaged in an intervention strategy for therapeutic treatment of patients in hospitals – internationally known as medical clowning.
About Medical Clowning: Medical clowning is an established field of medicine, internationally. It is believed to be introduced by American doctor Patch Adams in the 1970s. But in India, it is not known so much. In many countries, it is part of medical learning and in various setups, medical clowns are specifically trained.
"When we talk about health care, the focus is entirely on physical health. But as clownselers, our focus is on the complete well being of a patient – both physical and mental health," Agarwal told The Shillong Times.
A core team of 16-17 people, Clownselers Foundation also has about 250 volunteers across the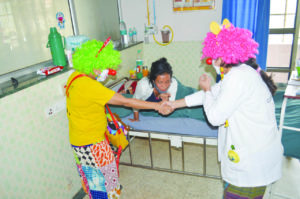 country. "We have been travelling across India, taking clowning to different hospital settings and also all kinds of spaces like old age homes, slums, orphanages, special schools," Agarwal said.
Agarwal is in Meghalaya to spread the word on the effectiveness of medical clowning. The Clownselers were invited by the Meghalaya government to introduce this form of therapy in the state.
"This is our second time to Meghalaya and we are glad that Sampath Kumar and Vijay Kumar recognise the need for clowning in medical set up. Our first visit was in April 2021, exactly at a time when the second COVID wave hit us. But despite that, we had a session in three different hospitals including COVID wards in NEIGRIHMS. The other two hospitals were Bethany and Nazareth," Agarwal said.
Terming the experience as "wonderful", Agarwal said the sound of laughter is something that evokes emotions and provides a sense of relief.
During their second visit, the Clownselers, who reached Shillong on November 24, visited three different hospitals in Shillong, two in Tura and one in Jowai.
"We started clowning from November 26 – first at Meghalaya Institute of Mental Health and Neurological Science (MIMHANS), then Shillong Civil Hospital on November 27, and Ganesh Das Hospital on November 29," she informed.
Narrating her experience at Shillong Civil Hospital, Agarwal said they came across a patient with acute depression. "He hardly smiles but post clowning, we noticed that even after we left the room, he couldn't stop smiling," the elated Agarwal said.
It's not a joke, it's therapeutic
"When I learnt about medical clowning, I wanted to try it and only a few people were doing this in India. In fact, very few people in the medical setup know about medical clowning. So, it got me – I realised this is a powerful therapy that revolves around the whole idea of giving purpose to a smile," the 35-yr-old Clownseler said.
She further added that this medical clowning is not just therapeutic for people they engage with, in different setups but it has been therapeutic for the Clownselers and volunteers as well, for ourselves too. "Medical clowning is like a win-win thing, both ways," she said.
Agarwal met Commissioner and Secretary, Government of Meghalaya, Vijay Kumar on November 29 to discuss plans of training the youth of the state in this form of therapy.
"Medical clowning can't be a one day process. It has to be a continuous affair and for that, there should be people who can continue," she said.
Since there aren't any courses in India for medical clowning, Clownselers Foundation has all kinds of people, from all kinds of educational or professional backgrounds and age groups. "There is no particular education or profession that we are looking at but anybody can clown and anybody passionate towards spreading a smile can join us," Agarwal added.
Speaking to this scribe, Principal Secretary of Health & Family Welfare Department Sampath Kumar said this is a welcoming intervention and the need of the hour to deal with fear and anxiety during times like these – medical clowning is more like a Placebo effect.
"You see fear is the problem. We need to have a positive attitude towards life. Yes, we facilitated the Clownselers in carrying out clowning. This is a new concept in Meghalaya – even for the doctors and nurses here," Kumar said.