Govt unable to dispel fears: Deputy CM on garbage woes
'We will not replicate Mawlai marten model at new site'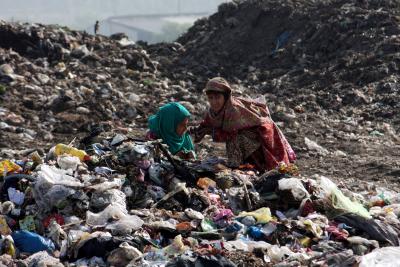 SHILLONG, April 4: The state government has been unable to remove the fears residing within the minds of the people with regard to the setting up of scientific waste management system, admitted Deputy Chief Minister Prestone Tynsong.
Stating that there would be no problems, he maintained that the technology today is different. Yet people are not willing to part with their land even if the government pays for it, he added.
When suggested that the government could demonstrate the safety of scientific waste management in the already available marten located on the outskirts of Shillong, the deputy chief minister said demonstrating it would require huge machinery and even its installation would take time.
He also said that the land at marten will fall short for setting up scientific waste management system, which is why the government is going for an alternative site.
Reacting to a query on garbage woes in Jowai, which has gone from bad to worse, Tynsong said the matter was discussed with the Urban Affairs Minister Sniawbhalang Dhar, who will be visiting Jowai in a couple of days to take stock of the situation.
The deputy chief minister said that the government, nonetheless, is trying to allay people's apprehensions about a scientific waste management system.
Stressing on the need to resolve the issue at the earliest, he said the more the issue is delayed, the more complications will crop up.
Reiterating that the real problem in Meghalaya is its peculiar land tenure system because of which the government cannot go ahead with any of its projects without the consent of the people, the deputy chief minister has asked the stakeholders to take responsibility on their part to resolve the problem.
Tynsong also revealed that the state government is not willing replicate the waste management system used in the government-owned marten located on the outskirts of Shillong.