The Fiesta of Colours in Festive Meghalaya 
Dr. Ratan Bhattacharjee encapsulates the spirit of Holi, through its celebratory and spiritual facets.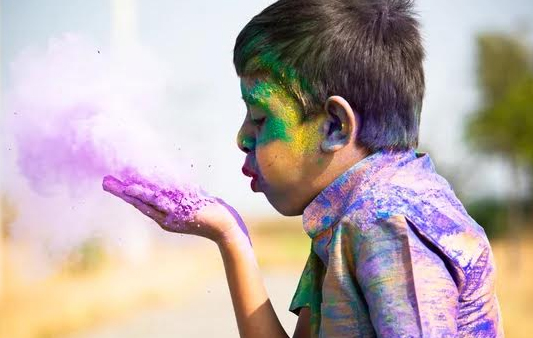 By Dr. Ratan Bhattacharjee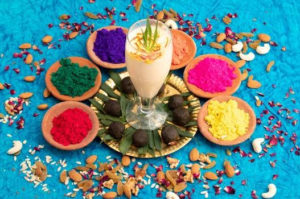 'Holi kab hai, kab hai Holi, kab? This famous line from the movie Sholay (1975) is etched in the minds of those who are Bollywood buffs and are enamoured by the festival of colours, Holi. Holi is being celebrated all over the world today and over the years songs from Bollywood films have further glorified the celebrations of the festival. Songs such as Rang Barse, Balam Pichkari, Ang Se Ang Lagana, Do Me A Favour Lets Play Holi, Holi Ke Din are some such renditions of the popular festival. These songs make India feel
connected musically and colourfully. People, mingle on this day irrespective of caste and creed to be a part of the frenzy. Along with the rest of the country people in Meghalaya also celebrate Holi with fun and gaiety. Vibrant hues of blue, green, yellow, pink and red spread joy and merriment in Shillong and Tura.
Holi with a local touch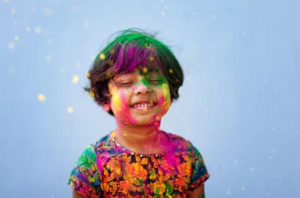 The cities of Shillong and Tura wear a festive look and people irrespective of religious backgrounds greet each other with a smiling face and boxes of sweets. Meghalaya is the third most populous northeastern state of India and has a diverse population of many religions and communities, who transcend their differences and drown in the festive spirit that promotes communal harmony. Many areas organise cultural programmes and there is an ecstatic euphoria among people dancing to the rhythm of dholaks, with children and young people coming out to the streets and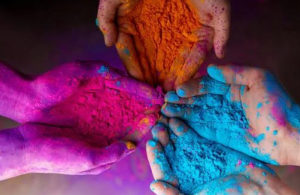 throwing coloured-water filled balloons. Those that are irked by the excessive display of such acts are often cajoled by saying 'Bura na mano, Holi hai', a slogan that evokes a smile on a frowning face. Small shops selling pichkaris, balloons, caps and colours often referred to as 'abir' make a lucrative business out of it.  Apart from smearing coloured powder on each other, exchanging of mithai and greetings is integral to the festival. Delhi Mistan Bhandar and Palace Sweets, two renowned sweetmeat shops located at the heart of the city selling a variety of sweets for generations, are places of prime interest at this time.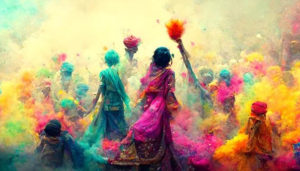 People, both young and old look forward to an array of sweet treats including gujiyas and thandai for a drink. Buckets full of coloured water make the roads patterned after hours of playing with colours. Pichkaris or high pressure water toy guns are sold all over Shillong at this time. 
Mythology and symbolism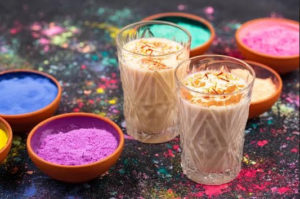 Although most associate the festival of Holi with throwing lots of coloured powder in the air, its rituals are filled with symbolism. While the main subject of celebration is the victory of good over evil, every region in India has its own version of this enthralling spring festival celebration. One region makes human pyramids to steal pots of buttermilk while another has women playfully beating up their men with sticks. Some of the most famous places for Holi celebrations include Mathura and Vrindavan in Uttar Pradesh, as well as Barsana in the same state, where the Lath Mar Holi festival of beating men with sticks is held. Places related to the life of Lord Krishna are known as Braj regions where traditional Holi is celebrated. Holi is also popular in the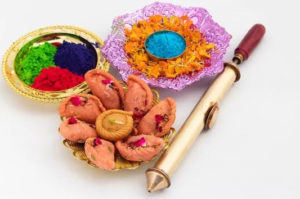 states of Rajasthan, Haryana, Delhi, Punjab, and Maharashtra, among others.
The symbolic Vishnu legend from the Bhagavata Purana highlights Holi as the festival of triumph of good over evil. The story is about the supreme God Vishnu and his dedicated devotee Prahlada, who was the son of the demon king, the indestructible Hiranyakashipu. It is believed that Prahlada was a devotee of Lord Vishnu even before he was born much to the dismay of his demon king father who tried to kill his son. It was Vishnu who came in his Narasimha avatar (half-human, half-lion) to rescue Prahalada and killed the invincible Hiranyakashipu. This signifies the triumph of good over evil.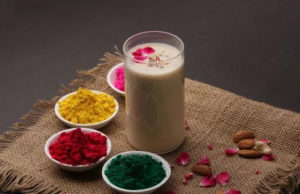 According to the Radha-Krishna legend, Holi is a festival of love. During his youth, Lord Krishna had a benevolent bond with Radha. She was fair-skinned and that caused a feeling of despair in Krishna's heart as he had a darker skin tone himself. As a result of this, his mother Yashoda approached Radha and asked her to colour Krishna's face with any colour she wanted. Ever since, this playful colouring of Radha and Krishna as lovers is celebrated as Holi among devotees.
Holi, celebrated during the full moon night of March, announces the end of the cold winter. Bengalis celebrate Dol Utsav while North Indians celebrate Holi. Dol or Holi legends are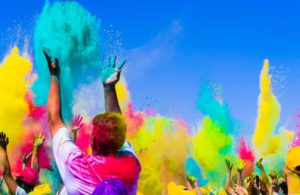 as old as the hills. The Nartiang Durga Temple in Meghalaya is one of the 51 Shakti Peethas on earth  and is considered as the permanent abode of Goddess Durga. On Dol Yatra day, this temple is decorated and people come to offer puja and seek blessings of the Goddess.
Hinduism is a popular religious practice among the Rabhas, Hajongs, Koch Rajbongshis, Mikirs, Nepalis and Biharis and they all participate in the Holi celebrations setting aside all their social and religious  differences "Burn your ego, expectations and ill thoughts in the fire of Holi" is the overlying message of Holi.
Popularly known as the Indian "festival of spring", the "festival of colours", or the "festival of love",  and by different names such as Phagwah in Assam, Holi is undoubtedly one of the most recognisable and visual festivals in India. Many ancestral works claim that Mahapurush Srimanta Sankardeva was the one to introduce Holi in India.
Dr. Ratan Bhattacharjee International Visiting Professor USA and trilingual writer and a contributor at The Shillong Times