Rampant poisoning of fishes in Ri Bhoi district rivers causes concern
Nongpoh, May 12: The killing of fishes in rivers and streams by using chemicals and other poisons has been a recurring issue, and the latest incident has caused concern among environmentalists and law enforcement agencies. The incident, which occurred at Khri River in Patharkhmah, has caught the attention of the authorities, following the viral video on social media showing a man posing with an enormous catfish weighing around 80 kgs.
As per sources, people from several villages in Patharkhmah have been enjoying fishing at Khri River, which was being poisoned using a locally available root tree called "Kharu." On May 10, Patharkhmah Police seized Kharu from individuals who were attempting to poison aquatic life at Khri River and warned them not to do so.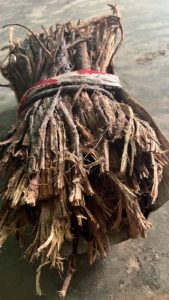 The Deputy Commissioner of Ri Bhoi District, Arpit Upadhyaya, expressed his disappointment that despite issuing orders under Section 144 CrPC, prohibiting any person or organization from indulging in the act of poisoning rivers, streams, or any other water bodies, few vested interests were still indulging in this heinous act. In light of this, the district administration has directed the Fishery Department and the Police to conduct a thorough investigation and nab all those involved and book them as per relevant sections of law.
Arpit Upadhyaya has also issued a warning to the people to stop this practice immediately, as it results in large-scale destruction of aquatic life and can have severe repercussions on the environment. The District Administration's order prohibiting this act will extend to all major and minor rivers and water bodies within the district.