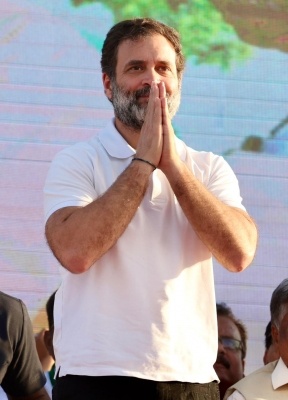 Shillong, May 23: Congress leader Rahul Gandhi paid a visit to truckers on Monday night to "know about their problems" and to hear their "Mann ki Baat".
In a video, Gandhi can be seen inside a truck, travelling with one of the drivers, and conversing with other truck drivers in images published by the party. According to the party, Rahul Gandhi travelled from Delhi to Chandigarh with the drivers to better understand their problems.
Tweeting the video, the Congress party wrote, "Jannayak @RahulGandhi ji reached among the truck drivers to know their problems. Rahul ji traveled with him from Delhi to Chandigarh. According to media reports, there are about 90 lakh truck drivers on the Indian roads. They have their own problems. Rahul ji did the work of listening to his 'Mann Ki Baat'."
Gandhi engaged in conversation with college students and ladies at a Bengaluru Metropolitan Transport Corporation (BMTC) bus stop earlier this month during the Karnataka Assembly Elections. In one of the BMTC buses, he also addressed the female passengers.
Gandhi spoke with Bengaluru's workers and delivery partners while he was in Karnataka. Gandhi joined them at a café for masala dosas and coffee after learning about the hardship of gig workers.
Gandhi was also observed boarding a two-wheeler as the passenger to travel to his accommodation in the city.