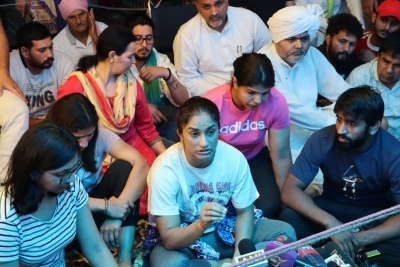 Shillong, May 28: Farmers, wrestlers and other protesters from Khap panchayats in various states have called for a "mahila samman mahapanchayat" on Sunday near the Parliament building.
As khap panchayat representatives and farmers are reportedly joining the protesting wrestlers' march towards the new Parliament House in Delhi today, security has been strengthened at the Tikri border.
On Sunday, the day Prime Minister Narendra Modi inaugurated the new Parliament building, the women wrestlers who have been protesting at Jantar Mantar and calling for action against BJP MP and Wrestling Federation of India chief Brij Bhushan Sharan Singh have called a mahapanchayat outside the building.
Since April 23, protesters have been holding a sit-in at Jantar Mantar, which is around 3 kilometres from the Parliament building. Prior to the opening of the new Parliament building, security has been increased in Lutyens' Delhi.
"We won't permit anything to interfere with the opening of the new Parliament building. To ensure that the inauguration ceremony is done without a hitch, the entire Delhi Police is on high alert", according to Delhi Police Special CP Deepender Pathak.