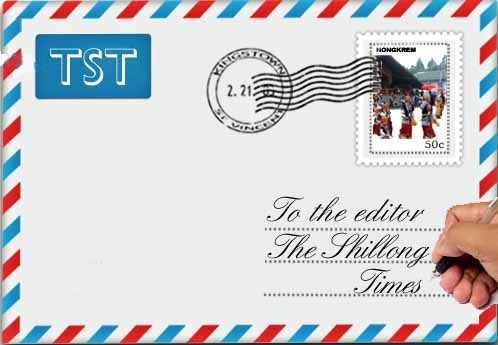 Editor,
Through this letter I want to express my views on the news item which appeared in your esteemed paper under the caption, "6 years on, Mawkhar Church refuses to act against defalcation," Shillong Times dated 29 May 2023.
It is very painful to see that our Mawkhar Church, Shillong which is also considered as the mother church and one of the oldest Presbyterian Churches in Meghalaya is under the cloud not because of the faults of it's members, but God only knows who is at fault as no one dares to come forward to unveil the truths.
I beg to state that my letter is not to judge, but to seek answers as to what happened to our money that we contributed throughout the years. I know that there are members or households of the Church who had to skip a meal in order to save some money to donate to the needs and requirements of the Church. So can we allow our money to just disappear into thin air?
The fault is not that of us members who religiously follow every rule of the Church and respond to every call whenever the need arises. The fault lies in its administration and the reason being the concentration of power in a small circle of elected elders who at times control manipulatively.
About 25 years ago when my children were small, I put them in a Christian Mission School which is located near the Secretariat of the Presbyterian Church. It was then that I witnessed the behaviour of a few Church Executives who behaved like those Government babus, who would let the driver or peon carry their briefcase and follow behind like a chaprasi in Government offices. The scene that I witnessed in those years was unbecoming of Pastors who are called to be servants, not CEOs.
But this is not a solitary case of the Presbyterian Church of Mawkhar which is now in the public eye for the unfortunate fund defalcation. Recently in 2019 it was written in the Report of the Presbyterian Assembly of Khasi and Jaintia Region that around Rs 31,73,015.00 was reported to be missing from the account books. Subsequently an internal special audit team was constituted to look into the matter and in its report the Special audit team made several observations that there was tampering of the account book and also observed that these matters should be handed over to specialized agencies like CID or CBI.
Now, coming back to the Mawkhar Church, until today why is there no one to admit or take responsibility for what had happened? Why has the Church not constituted any proper and independent committee to study the case? Or is there more to it than the sheer amount of Rs 4.5crores?
As reported, the Church has been receiving income tax notices. Of course this is normal and every Church organization across the State is now subjected to filing of returns as per Income Tax law. But why did the Income Tax Department stop issuing routine notices to Mawkhar Church? Perhaps the Income Tax Department should have followed up and taken immediate action as and when the news of alleged fund embezzlement was made public.
The Police Department is requested not to go easy with the case and I urge upon the police personnel who are handling the case not to succumb to any pressure tactics from any quarter be it political or otherwise.
Besides the Rs 4.5 crores embezzlement there was the report about the Sohmylleng Mission and apparently there is something fishy in this mission field too. Sohmylleng village now falls under the Eastern West District and it is quite a distance from Mawkhar. Why would Mawkhar Church invest there in the first place? Of course, I am not saying that the villagers of Sohmylleng and it's adjacent villages do not need good schools which I believe big Churches from Shillong can easily provide. But the fact is that the schemers of Mawkhar Church should have looked at their own front yard or backyard first. There are scores of people around the area of Khlieh Iewduh, Iew Mawlong, Punjabi Line etc who are in need of the healing touch of Christ. They need informal education, drug de-addiction and drop in centres. They are in need of proper hygiene, sanitation, and health care facilities. Working people and especially women traders or shop keepers or those who work in shops need a creche to keep their children near their workplace. Mawkhar Church which is located within the vicinity, is the best organization to engage in such Good Samaritan acts.
I also wonder if any of the pastors or elders of Mawkhar Church pass by the Khyndai Lad at night. Don't they see those sex workers, both trans and straight, who are strolling by the sidewalk of the English Presbyterian Church and behind the State Legislative Assembly? These lost souls are in dire need of the healing and helping hands of the Church. Why doesn't the Church invest it's money on urban mission and train the youth of the Church to help liberate the drug addicts and sex workers from enslavement and provide them with an alternative by providing them skills training for jobs or by giving them proper education. Had that Rs 4.5 crores been spent wisely Shillong would have been a better place.
Finally, why was Pastor K. Pyrtuh suspended? We all knew his pro-poor stance and his indomitable campaign against injustice and corruption. But the Church authority acted against him on the grounds that he publicly participated in the Campaign against Aadhaar alongside late Rev PBM Basaiawmoit which the Synod felt went against its decision by refusing to withdraw from the campaign.
Is the reason for Pastor Pyrtuh's suspension just an excuse or is he a victim of dirty Church politics? I believe that there is more than meets the eye. Or is it because if he is still around and active in the Church more skeletons would tumble out from the closets or that he will not allow any cover up? It is an open secret that another Pastor Rev. M. Pyngrope of Mawkhar Church will soon face the axe of the Church Authority for refusing to sign a draconian Church bond.
Since the day when the above news item appeared, the Mawkhar Church has been the talking point in every household including mine. Initially I was trying to downplay it down with the Christian spirit of forgiveness or jingmap ei in Khasi. I was retorted by this sharp reply "ka jingiamap" or forgiveness can also mean a cover up and it is not healthy for Church and society.
Through this letter I humbly appeal to our beloved Pastors and Church elders (I believe there are still good souls remaining) to kindly take this matter seriously and resolve it once and for all.
Yours etc.,
Name withheld on request
Via email