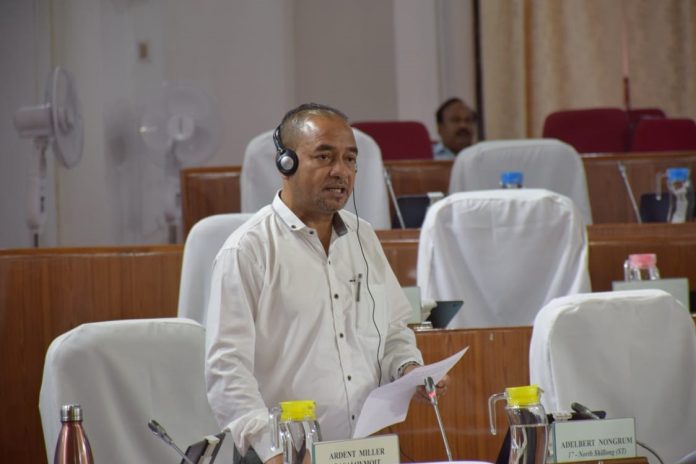 Shillong, Sept 19: The VPP legislator from North Shillong, Adelbert Nongrum in the Assembly on Tuesday wanted to know about the action that has been initiated against West Khasi Hills (WKH) Deputy Commissioner for granting permission to the fishing competition at Pamphyrnai Lake in Ksehkohlong village without carrying out responsibility to ensure that there is maintenance of law and order.
While moving a zero hour notice on the second day of the Autumn Assembly session to an unfortunate incident of pregnant woman from Mawthawniaw village, West Khasi Hills who lost her unborn child on September 16 due to severe traffic jam in view of the fishing competition, Nongrum also question whether action had been initiated against the Superintendent of Police of West Khasi Hills for allowing police personnel to be engaged by the organizer in prize distribution while being absent from traffic management and crowd control.
He said that it was a matter relating to the shocking death of an infant as the pregnant mother had to deliver without a medical assistant inside the passenger vehicle.
According to him, the vehicle was stuck in a three-hour long traffic jam due to parking on both sides of the road and in view of the unruly crowd not giving way to traffic due to unregulated fishing competition.
The VPP legislator said that even as district administration was found guilty of negligence in issuing permission without taking responsibility and maintaining law and order
"It was also seen that district police personnel being engaged in prize distribution while noticeably being absent in controlling crowds and vehicles from obstructing the traffic flow on the busy Shillong-Nongstoin Highway alongside the fishing competition venue," Nongrum said.
He further mentioned that the report of this unfortunate incident has featured prominently in all the local newspapers and even on the various YouTube channels.
Meanwhile, he questioned if the government could put on a hold in giving permission to holding fishing competitions till such time it is able to put in place a proper regulation by way of legislation so that no more such untoward incidents will pose danger to the health and safety of the general public.
The VPP legislator also said that he would also like to point out on the adverse impact of fishing competition held almost every Saturday to the weekly earnings of rural households to attract prize money of around 50 lakhs in total for each event.
Stating that the families are shelling out Rs 2000 to Rs 3000 for the prize money, he however observed that there is zero contribution towards the government revenue.
Meanwhile, in his reply, Deputy Chief Minister in-charge Home department, Prestone Tynsong told the House that he would give an official statement on this incident in the House on Wednesday.
IANS