Interviewed by Esha Chaudhuri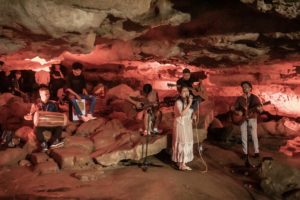 Making waves with their recent one off performance inside the Arwah Caves in Sohra, folk-fusion band Summersalt has been the buzz word for some time now. In collaboration with Clean Sohra Campaign, performing for the cause of the environment, the purpose of the event was twofold – firstly, promoting tourism and secondly, nurturing the local talents. However, a range of public discussions over their performance, and their choice of location took centre stage creating mixed perceptions among Shillongites.To delve deeper into a seemingly contradictory preach versus practice and clearing the air on this issue, while refocusing the lens on the original cause – raising awareness on environmental concerns, Sunday Shillong speaks with Summersalt, the band (SSB) comprising Kitkupar Shangpliang (main vocals/ acoustic guitar), Ador (duitara and keys), Pynsuk (female main vocal), Weet (drums and vocals), Greg (electric guitar), Dajied (traditional percussionist), Pynshai (bass guitar). Excerpts of the interview are as follows:
SS: Where did the idea of picking such a unique location come from? 
SSB: This started when a friend of the band and head of Clean Sohra Campaign, Alan West Kharkongor invited us to perform at their special event inside Arwah Cave and to see if we can do something different and meaningful, showcasing the culture of the place. We've also seen such shows happen in other places of the world like the one in Cumberland Caverns: A Subterranean Concert Venue in Tennessee, USA and other caves in Europe.
SS: Which aspect of Mother Nature, and the environment does the band want to shine light on? 
SSB: The concept was communicated to us by the organiser 'Clean Sohra Campaign' to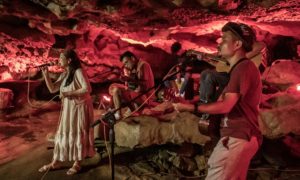 perform as a mark of respect to celebrate the rich heritage and authenticity of mother nature not just in Sohra area,  but the entire state. The life of the Khasi people and their music are so well-integrated with nature since time immemorial. In Summersalt's songs, you will find a lot of references to the serenity of the place, the waterfalls, the streams and so on. Besides, the fact that some of the members grew up in Sohra, brought back old memories of being raised with nature. It is sad to see people's irresponsibility in mistreating the environment.
SS: After your performance at the Arwah Caves, many across the state began to wonder if the use of amplifiers inside the cave could possibly have any adverse effect on the environment?
SSB: This was our first genuine concern too, when we were approached by the organisers that we asked them multiple times; what do cave protection experts say about musical performances inside a cave. After reconfirmations, there were clear green signals that we could perform. Of course, we had taken preventive measures not to have full-on sound or even play our usual heavy stuff. There was a close-knit crowd, folksy light music and more of a story-telling exercise so everyone could have their fair share of responsible fun. In fact, if there is a next time, the organisers could invite people who have concerns too, for them to see how safely and securely it is done.
SS: A big initiative for a clean environment has been recently enforced through the single use plastic ban. What are your thoughts on it?
SSB: We have reasons to believe that plastic in itself is not a problem, the problem has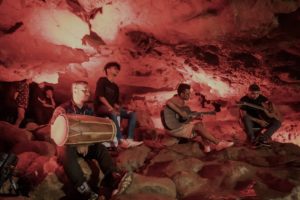 exacerbated because of people's irresponsibility and there is a lot of work in terms of public awareness on such issues related to the environment. So yes, in principle and in practicality, we stand for use of biodegradable materials but if plastic needs to be used with multiple usage and a need for community-government organized action to regulate it.
SS: Talk us through your new release 'Captivate Me' that conveys a message on the well-being of Shillong? 
SSB: 'Captivate me' is an 'Ode to Shillong', nostalgically taking us back to the city's glorious years. But it doesn't end there with nostalgia, the song laments the plight of Shillong as huge challenges were thrown at it – at the same time, celebrates its resilience and contribution of good people with good intentions. The song has been around for five years now, and we have performed the song in India and abroad, during our Europe tour last year, to which, many in the audience were very inquisitive of the 'Scotland of the East', if Shillong still deserves that tag. The song like the rest of the 10 tracks from our sophomore album was recorded in Yash Raj Films Studios in Mumbai and mixed and mastered by India's leading music producer and engineer Shantanu Hudlikar.
SS: What are Summersalt's future collaborations on such causes?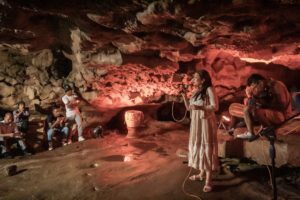 SSB: We are talking with a few concerned organisations to see if we can use our existing songs to promote their verticals in tackling social ills, of course, the idea is to make hard hitting videos because music without visuals nowadays do not work effectively. We are in talks on collaborations with a celebrated group of singers and prominent artistes. When that happens, a lot of people would have got an idea that most of these songs are intended to make a difference socially.
                                                           —-End of Interview——-
As the organiser of the program, Clean Sohra Campaign leader, Alan West Kharkongor puts it "The idea of conducting such an event is to emphasise on the importance of taking responsibility to protect and preserve mother nature, and celebrating the scenic beauty of Sohra with folksy music."