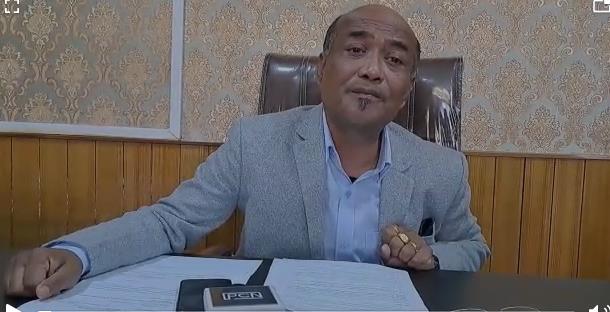 By Our Reporter
SHILLONG, Sep 18: Leader of Opposition in Khasi Hills Autonomous District Council (KHADC), Titosstarwell Chyne on Monday urged the state government to release the pending dues on the share of royalty from major and minor minerals to the council.
He told The Shillong Times it was expected that the government would release the pending dues as the Executive Committee (EC) of the council is led by the National People's Party.
Pointing out that the council's financial position is not good, Chyne said it will greatly help if the government clears all pending dues.
"If the government continues to delay in releasing the pending dues, it will put the council in a problem as the present EC has already made an announcement on clearing the pending arrears of employees and they expecting to receive the same," Chyne said.
The state government has not cleared the dues on royalty for minerals to the three autonomous district councils since 2021-22.
According to the supplementary demands for grants and supplementary appropriation for 2023-24 tabled in the Assembly on Friday, the amount payable as share of royalty to KHADC for 2021 is Rs 24,81,06,442. The amount payable to Jaintia Hills Autonomous District Council is Rs 9,82,25,690 while the Garo Hills Autonomous District Council is due to receive Rs 5,33,87,565.
The total anticipated utilization for payment of share of royalty to the ADCs for the financial year 2023-24 is Rs 50,69,81,964.
Meanwhile, Chyne said the KHADC's efforts to give a facelift to the Iewduh market were taken up from the previous EC.
"The efforts to maintain cleanliness should not be restricted to the Iewduh market alone since the previous EC had passed the Khasi Hills Autonomous District (Solid Waste Management) Act, 2020 to take measures about garbage management in all the Schedule areas falling under the council," he said.
He said it is not an easy task to maintain the cleanliness of a huge market like Iewduh.
"I hope the efforts will be successful," Chyne said.
He recalled that during the joint inspection at the Iewduh market when the state was in the grip of Covid-19 pandemic, Deputy Chief Minister, Prestone Tynsong along with former Urban Affairs Minister, Hamletson Dohling had assured that the water pipes lying along the footpath will either be covered or diverted.
Chyne said leaving these pipes unattended will be dangerous. He cited instances where people were injured after accidentally stumbling upon the pipes.
"But so far, no steps to either cover or divert these pipes have been taken," he said.
The former CEM of the council recalled that they had given Rs 50 lakh during the previous EC for the construction and repair of the footpaths at Iewduh and installation of CCTVs and public address system.